We fill new and existing prescriptions in-store, by phone and online.
Transfer your prescriptions to our pharmacy using our simple and secure online transfer form.
Visit us in store or get in touch with a member of our pharmacy staff. We're always happy to assist you.
Become a Pharmacy Insider
Subscribe to our newsletter for promotions, health news and savings
Your Pharmacy Experts
Trust Us With Your Health


At Tri Tech Rx, we believe that being a local independent pharmacy means providing healthcare and medication services to our patients that are customized to meet their needs. Visit us today and let us take care of you.
More Than Just A Pharmacy
We offer Vitamin Shots, such as VitaminB12/B complex and Vitamin C. Speak to someone today about Vitamin Shots.

Haleh I.
"This pharmacy is a hidden Gem. The staff is very helpful and get straight to the point. Their Valerian Root Extract was recommended by my close friend. Love it ! It improved my sleep tremendously. I highly recommend this!"

Xariah J.
"Stopped by Tri Tech Rx while walking through Santa Monica. A beautiful aroma drew me in and made me feel so calm and relaxed. Everyone who works here is so nice and welcoming!! They have a great variety of health products for reasonable prices, and they threw in some free samples. Stop by if you're in the area; you won't regret it!"

Neda M.
"Highly recommend this pharmacy!! It is under new management now and they just had their grand opening. Very friendly staff and warm welcoming to the store. Got some high quality vitamins and supplements and ended up getting B-complex injection. She did a great job and it all went smoothly. I really liked their beautiful decorations inside too. I will come back for my future prescription and OTC products since they have free delivery services as well."
Tri Tech Rx combines high quality products with personalized care. Our staff will be happy to help you with any questions you may have.
We offer a wide variety of services including conventional prescription filling, compounding, medical equipment, medicare open enrollment and much more.
Check out our weekly health news blog, or subscribe to our newsletter and receive updates on health articles, promotions, specials and much more.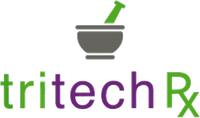 We'd Love to Hear From You
At Tri Tech Rx, we're committed to helping you live a healthier life. Our pharmacy staff would be happy to help you with any questions you may have.